Your Pup's Request? Help Me Have a Super Summer!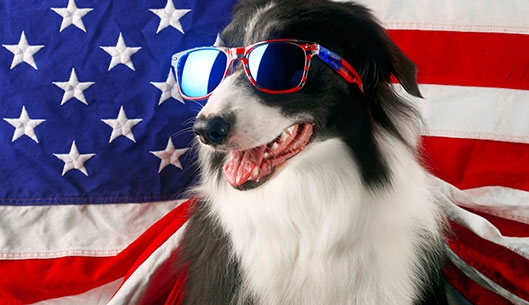 You're excited about summer, and so is your dog! Your canine friend knows there will be more outside time, vacations up north, and lots of cookouts with family and friends. But if you could have a heart to heart with your companion, they might also express some misgivings about the warm weather season. Here's what your dog might say to you!
More People are Visiting My House!
Having a cookout? A family reunion at your place? Your dog may be used to the occasional visitor, but an increase of people could make for a restless animal. Being sequestered in a bedroom for the evening because of rambunctious behavior can upset your dog's daily routine. Even the variety of reactions from guests when seeing a dog can mess with your pet!
Boom! Boom! Boom!
While we enjoy the fireworks, our pets don't have the context of understanding we are celebrating independence. To them, it's loud, scary noises making them wonder what in the world is happening. Lightning and thunder are other loud sounds that can send your pet to seek a place under the couch.
Who Turned Up the Heat?
Bug stings, overheating, and where is that water bowl? These are all things that amp up along with the temperatures in messing with your pet. Since your dog didn't get a calendar for Christmas, all he/she knows is—I'm uncomfortable, help!
A Ride to Where?
Summer may mean more car rides, which can be problematic for some dogs. Then there's the grooming, the vet, and the camping or cabin trip. With roads in good driving condition, you will be on the go—which may drive your pet crazy!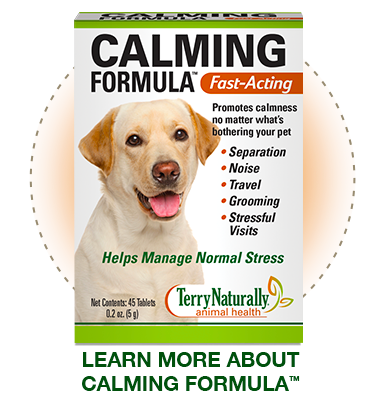 Since your pet can't speak, they communicate in different ways, including behaviors which are telltale signs they are not happy. Excessive barking, inappropriate urination, licking, sudden aggression toward other animals, and destroying a few of your favorite things—these can all be pet speak for "we need to talk." Turn to a safe, fast-acting way to help your dog maintain calm. A compound from echinacea in an easy-to-take supplement called Calming Formula™ from Terry Naturally® Animal Health brand supplements is your answer. Echinacea is known for immune support, but researchers have found that one specific species of echinacea—Echinacea angustifolia—has a compound that supports brain receptors associated with feelings of calm and relaxation. It works because of how the plant is grown and how the key compounds are extracted. Taken as a supplement, this breakthrough echinacea extract can relax and calm your pet without the side effects, helping your pup maintain a normal disposition whatever the season.
You can count on Calming Formula to help your dog with stress from traveling, hospitalization, moving, or other situations that may cause anxiousness all from an easy-to-take, tiny tablet that works quickly.
Be proactive. Anticipate all the ways you can make it a better summer for your dog including supporting their normal emotional balance with Calming Formula. A happy pet this summer can make it the best one yet.
---
ABOUT | Michele
Michele is a mom, wife, and grandmother who has been writing about the world of natural medicines for over twenty-five years. A professional voice talent, watercolor artist, and author, Michele enjoys conveying all that is possible in natural health through multiple communication styles—including a good laugh.