Does Your Mood Need a Lift?*
Does Your Mood Need a Lift?*
Everyone experiences a bad day now and then. If you're feeling down, the best way back up may be Saffron Lift™ from the Terry Naturally® brand of supplements. This unique formula combines two of nature's most reliable and trusted botanicals—saffron and curcumin—to boost your mood and lift your spirits.*
Two Tried-and-True Nutrients
Saffron is a plant that has been highly regarded for its health-supportive abilities for thousands of years. It's considered one of the world's most expensive spices, due in large part to the fact that it is often cultivated and harvested by hand.
Saffron Lift contains a proprietary ingredient called Saffron EP15™, which is standardized for clinically studied levels of compounds that support healthy serotonin, cortisol, and GABA levels. These important chemicals in the brain have the ability to influence your mood and motivation levels, which is why you want to stay in balance. When taken daily, saffron has the unique ability to support healthy levels of these influential brain chemicals, while also promoting emotional balance and peace of mind.*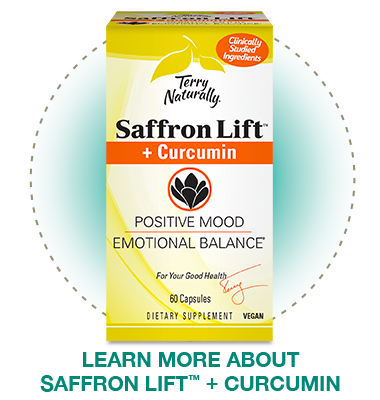 Next in the mood-boosting botanical line up is curcumin, a compound from turmeric. Chances are you've heard of this nutrient before due to its slew of health benefits. But while you might be aware of curcumin's ability to support a healthy inflammation response†, you may not realize how that translates to brain health. The truth is, a quality curcumin product can greatly enhance your mental well-being.*
Like Saffron EP15, the clinically studied curcumin in Saffron Lift is also standardized for a full spectrum of beneficial compounds. BCM-95® curcumin (also known as Curcugreen™) is combined with turmeric essential oil, including ar-turmerone, for enhanced absorption and blood retention. This means it stays in the body longer for better results. The curcumin in Saffron Lift has been the subject of over 50 published studies and has the amazing ability to support healthy inflammation levels.*† Curcumin is also well known for its ability to enhance mental well-being and a balanced mood.*
If you're looking for a safe, effective way to support a positive mood, experience more restful sleep, and feel better every day, Saffron Lift delivers powerful results you can count on.*
---
ABOUT | Julie
Julie has been a writer, researcher, and author in the Natural Health industry for nearly 15 years. A wife and mom to three young daughters, Julie is infinitely interested in studying the science behind how botanicals and nutrients can support and improve the health of her loved ones, and all who read her work.
†Occasional inflammation due to exercise or overuse.