Warm Pumpkin Spice Get-to-Sleep Drink
Warm Pumpkin Spice Get-to-Sleep Drink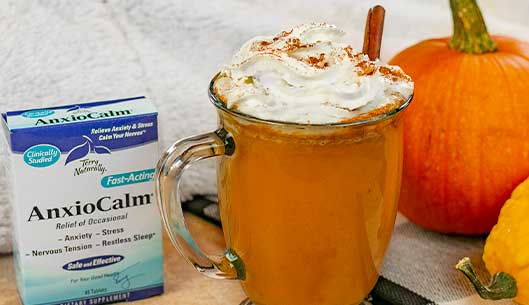 Do you ever find your mind racing with thoughts when you want to fall asleep? (Yeah, us too!) Try this warm and cozy beverage—paired with AnxioCalm®—to relax your mind and drift peacefully off to dreamland.*

AnxioCalm is a clinically proven botanical based product that helps calm the mind and helps you fall asleep. It's also safe for adults and children ages 4 and up!
---
1 Cup Almond Milk (for a healthy dose of magnesium and calcium.)
2 tbsp. Pumpkin Puree
1 tsp. Vanilla
1 tsp. Nutmeg
1 tsp. Cinnamon
1/2 tsp. Clove
1/2 tsp. Ginger (for that perfect pumpkin spice flavor!) 

Directions:
Add all ingredients to a small saucepan and whisk together on medium-low heat.
Stir until lumps are gone. Serve hot!
---
ABOUT | EuroPharma
EuroPharma, Inc., maker of the Terry Naturally® brand, offers clinically proven and effective nutritional supplements that improve the health of America. Terry Lemerond, founder and president of EuroPharma, is well-known for innovation, and is credited as the first to introduce glucosamine sulfate and standardized Ginkgo biloba to the U.S. natural products market. The full line of Terry Naturally products is available throughout the U.S. in both the health food store and professional distribution channels. At EuroPharma, Our Passion is Your Health®.