Three Things to Look for in a Grape Seed Extract
Three Things to Look for in a Grape Seed Extract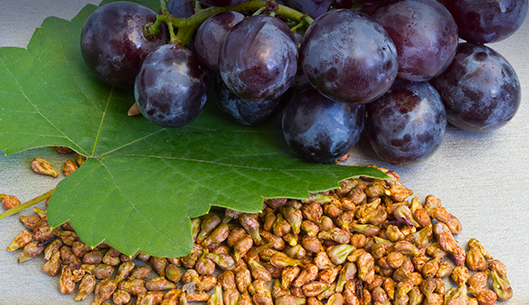 When it comes to health-promoting botanicals, few have proven to be as powerful and versatile as grape seed extract. The best grape seed extracts will provide support for healthy heart function, cellular protection against oxidative stress, DNA, powerful immune function, cholesterol balance†, and so much more!*
The problem with grape seed extracts, however, is that many products on the market today are adulterated with cheap ingredients, like peanut skins. Peanut skins contain compounds that can pass as grape seed extract if not carefully scrutinized. Sadly, these products make it to market due to inadequate testing by supplement companies, which means consumers may be paying a steep price for something being touted as 100% pure grape seed extract that may contain little or no grape seed compounds. What's more, peanuts are a top 8 allergen, which makes these adulterated products potentially dangerous for consumers with peanut allergies or sensitivities.  
So if you're considering taking a grape seed extract for your health, how can you be sure to purchase a pure, unadulterated product that delivers on its health claims? Use these three criteria to make sure you're getting the best grape seed extract possible.
Three things to look for when choosing a grape seed extract: 
Small OPCs. When it comes to grape seed extracts, size matters. The best products are standardized to contain low molecular weight (small) oligomeric proanthocyanidins, known as OPCs. Small OPCs mean the beneficial nutrients are easily absorbed in the body.


Proven Studies. Reputable products often have published, scientific studies to prove their safety and efficacy and support their health claims. You can search for studies in online databases like PubMed or Google Scholar.


A Quality Seal. You want to be sure that the grape seed extract you choose is tested, verified, and NEVER adulterated. Some products, like Clinical OPC® from Terry Naturally®, ensure the proper identity and authenticity of its grape seed extract through independent testing by qualified laboratories. Look for Clinical OPC's quality seal—a sure sign you're getting the real deal in grape seed extracts.  
---
ABOUT | Julie
Julie has been a writer, researcher, and author in the Natural Health industry for nearly 15 years. A wife and mom to three young daughters, Julie is infinitely interested in studying the science behind how botanicals and nutrients can support and improve the health of her loved ones, and all who read her work.
†Supports healthy levels already within normal range.