Terry Naturally Launches Liquid Hemp Select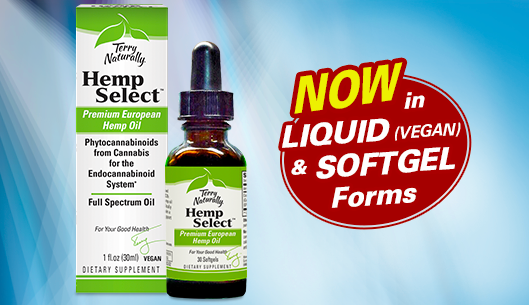 October 2018
Non-GMO European hemp oil with full spectrum phytonutrients
EuroPharma, Inc.®, maker of the Terry Naturally® brand of dietary supplements, announced the launch of Hemp Select™ Premium European Hemp Oil as a liquid with metered dropper. The new liquid supplement joins the family of hemp products, which includes Premium European Hemp Oil (encapsulated) and Premium European Hemp Oil + Curcumin (encapsulated). The European hemp oil used in these products is CO2 extracted, meaning no exposure to excessive heat, from hemp plants that are cultivated following strict Ecocert practices.
All Terry Naturally premium European Hemp Oil products contain a full spectrum of hemp phytonutrients that are especially effective in supporting a healthy endocannabinoid system. Recent research has shown that the endocannabinoid system plays a vital role in pain relief†, sleep, mood, and overall wellness.
"Hemp oil is extremely popular because it is highly effective, and the science expands every day on this powerful ingredient. There has been a great demand from our consumers to offer these products in a liquid dosage format, for more flexible dosing. Each bottle comes with a metered dropper to easily measure the amount used. An additional benefit is that the liquid can be mixed into a small amount of food, if that is the preferred method of ingestion," states Terry Lemerond, president and founder of EuroPharma, Inc., maker of the Terry Naturally line of dietary supplements.
"All Terry Naturally Premium European Hemp products contain a very high grade, concentrated European oil that is tested and verified to meet federal legal guidelines to assure less than 0.3% tetrahydrocannabinol (THC) can be found in our products. I am glad that we can offer this newest member of the hemp oil family to better meet the needs of our customers."
All Terry Naturally Premium European Hemp products feature:
Full entourage of concentrated, beneficial compounds
Supercritical CO2 extraction process
Non-GMO European hemp farmed according to Ecocert practices
Grown without synthetic pesticides and chemicals
Vigorous quality testing
Terry Naturally Hemp Select Premium European Hemp Oil liquid is now available nationwide at quality health food retailers and integrative pharmacies.
---
ABOUT | EuroPharma
EuroPharma, Inc., maker of the Terry Naturally® brand, offers clinically proven and effective nutritional supplements that improve the health of America. Terry Lemerond, founder and president of EuroPharma, is well-known for innovation, and is credited as the first to introduce glucosamine sulfate and standardized Ginkgo biloba to the U.S. natural products market. The full line of Terry Naturally products is available throughout the U.S. in both the health food store and professional distribution channels. At EuroPharma, Our Passion is Your Health®.
*SPINScan Other Herbal Formulas, Total US - Natural Channel, 52 wk Data Ending 8/01/2018 †Occasional muscle pain due to exercise or overuse