Stress-Be-Gone Salted Caramel Almond Bites
Stress-Be-Gone Salted Caramel Almond Bites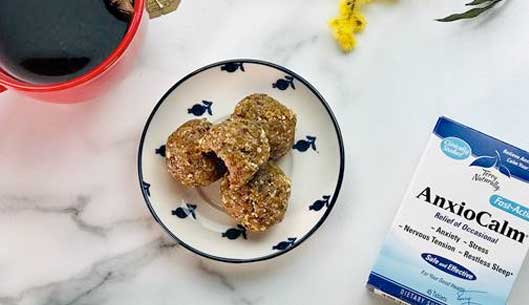 These simple, stress-busting bites work great for parents who are on the go or for kids in need of a healthy after school snack.


---
Stress-Be-Gone Salted Caramel Almond Bites

INGREDIENTS:
16 ounces of Medjool dates, pitted and quartered
1 cup Almonds, raw
1/2 cup Golden flaxseeds
1/2 cup Hemp seeds
1/4 tsp Himalayan Salt
2 tsp Vanilla extract
1 Tbsp Coconut Oil
1 Tbsp Manuka Honey (or omit for Vegan)
Liquid Vanilla Stevia to taste (1-4 squirts)

DIRECTIONS:
Add flaxseeds, hemp seeds, and almonds to a high speed blender and blend until the seeds are a fine consistency.
Add dates, vanilla, coconut oil, Manuka Honey, and Stevia. Blend until everything comes together and forms into a fudge-like consistency.
Lay out parchment paper and scoop out mixture.
Roll into ping pong size balls and refrigerate for an hour. Continue to store in fridge.
---
ABOUT | EuroPharma
EuroPharma, Inc., maker of the Terry Naturally® brand, offers clinically proven and effective nutritional supplements that improve the health of America. Terry Lemerond, founder and president of EuroPharma, is well-known for innovation, and is credited as the first to introduce glucosamine sulfate and standardized Ginkgo biloba to the U.S. natural products market. The full line of Terry Naturally products is available throughout the U.S. in both the health food store and professional distribution channels. At EuroPharma, Our Passion is Your Health®.