Meet Terry, the Man Behind the Company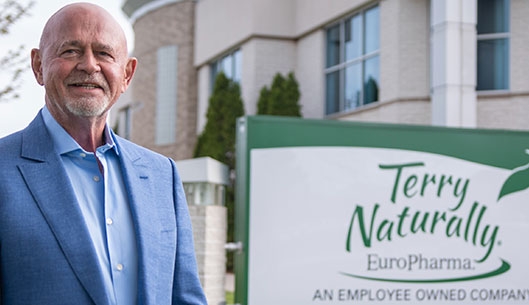 ARTICLE BY |
Ever Thankful for My Own Path to Health
Learning about nutrition as a young man completely changed my life and sparked my life-long passion for natural health. People are often shocked to learn of my humble beginnings and chronic health problems as a teen. But I know that these problems can be overcome with faith, education and proper nutrition, and I know this from a personal experience!
So, when I started out as a young adult, I wasn't interested in nutrition at all. In fact, I was living a life as far from it as possible.
Being addicted to an unhealthy lifestyle is easy. It's a set of habits anyone can fall into at any time. In my teens and early 20's, at 5'7" tall, my weight ballooned. I was overweight, unpopular, out-of-shape, and had a serious junk food addiction.
It took enlisting in the Marine Corps and acquiring an exercise routine (a daily obstacle course and 10-mile run was "strongly encouraged") to start becoming healthier. I was fortunate to meet the right people at the right time with an interest in good health, too. While I was in the military, a captain in the Marine Corps mentored me in weight lifting and physical exercise and introduced me to my first health food store in Oceanside, California.
Since that time, I've been an owner of health food stores, and have worked to formulate and introduce some of the premier natural medicines to America.
In fact, I've spent over 45 years in the health food industry. I've been an owner of health food stores and have created nutritional manufacturing companies. During that time, I have researched and developed over 400 nutritional and botanical formulations that continue to be top selling products on the market today. And, in trying to bring more responsibility to the industry I introduced the concept of botanical standardization to the U.S. health food market.
Today, I'm honored when people tell me how Curamin®, CuraMed®, AnxioCalm®, and our Hemp Select™ supplements have dramatically improved their lives. I am dedicated to furthering our clinical knowledge of botanical ingredients by supporting research of French Grape Seed VX1™, Andrographis EP80™, and other beneficial herbs, compounds, and nutrients.
I've been blessed and fortunate. The lifestyle that I adopted back in the Marine Corps eventually brought me to where I am today—healthy, at an appropriate weight, and with a better understanding about health and nutrition.
In fact, this journey has taught me a key understanding that I think everyone can benefit from: That it is truly amazing how so many good things happen when we stay positive. My philosophy is first, to believe in God, and always know that all things turn out for our greater good when we love the Lord, and believe they will. Things may at times look bad only because we do not understand the workings of the universe (God), the power of our minds, and the power of belief. Stay positive, believe in yourself, and dream of big goals.
During my years of research, I've investigated many ingredients. I've traveled to their countries of origin, spoken with the growers, researchers, and practitioners, and tried to absorb as much of their knowledge as possible. Along the way, my own health and the health of those I've come to know has improved as a result. It has been a wonderful experience, and I am incredibly grateful. I hope you benefit from this experience and apply it successfully in your own life as well.
---
ABOUT |
†Occasional muscle pain due to exercise or overuse.