Keep Stress in Check for a Happier Holiday Season*†
Keep Stress in Check for a Happier Holiday Season*†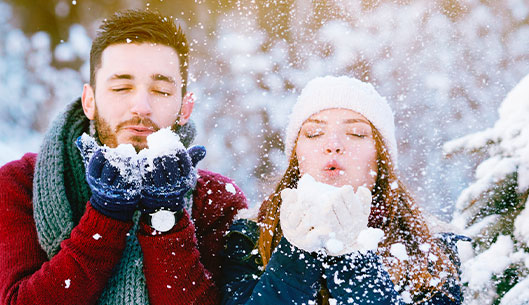 When you consider quality time spent with loved ones enjoying warm, comforting meals, movie nights curled up with hot cocoa or a glass of red, and joyful family traditions like annual cookie bakes, this truly is the hap-happiest season of all! But for many people, those Instagram-worthy moments are few and far between during the holidays—with occasional anxiety and stress filling in the gaps among those "picture perfect" moments.*
To make this year less frazzled and more festive, why not focus on the following ways to practice some much-needed self-care to combat occasional stress before it starts?*

Make Time to Exercise
When your to-do list feels a mile long, the last thing you often make time for is a good sweat session. But in reality, you need to move exercise to priority number one! Going for a walk, doing some yoga, or hitting the gym will set you up for a day of focus and accomplishment. Research shows that working out can boost your mood and energy levels for up to 12 hours. (Not to mention it makes you feel better about indulging in some of your favorite holiday treats this time of year!)


Take Advantage of Adaptogens
If the holidays tend to get your tinsel in a tangle, it's time to introduce adaptogens into your daily supplement regimen. Try ashwagandha to manage occasional stress and bounce back from everyday challenges, andrographis for extra immune support, and red ginseng for steady, all-day energy!* Take just one adaptogen for daily support, or a combination to reap the specific benefits you're looking for.


Allow Essential Oils to Work their Magic
Certain essential oils, like lemon balm, lavender, mandarin, and ravintsara, are known for promoting relaxation and eliciting feelings of peace and well-being. Long used for their calming and sleep-inducing properties, these essential oils work synergistically to support deep, sound sleep without causing morning grogginess. Try this combination in supplement form and make your own essential oil roller for added support.*


Limit Technology
Did you know the constant alerts, pings, and alarms from your phone and other tech devices keep your brain in a continuous fight-or-flight mode? That means all your phone time—especially time spent on social media apps like Facebook, Instagram, and Twitter—is keeping your stress levels at a consistently high level, leading to occasional anxiety and lack of focus. So if you're looking for ways to unwind, it's time to seriously unplug. This is the time of year to focus on what truly brings you joy, and we have a feeling your phone doesn't give you the same love and support as quality time with family and friends. Limit technology and focus on people to relieve occasional stress and increase your joy.


Practice Gratitude
Showing people how much you appreciate them doesn't have to equate to lavish gift giving or party planning during the holidays. Practice gratitude in smaller ways this year to help maintain a sense of calm in your heart and mind. Call someone you haven't talked to in a while and catch up. Schedule quality family time to relax and appreciate just being together. Finally, make a list of all the things you are grateful for, and all of the things you look forward to in the coming year. Studies show that people who focus on the positive and are more grateful, are also healthier and more resistant to stress in their daily lives.

Remember, when all is calm this holiday season, you'll feel brighter. Here's to a more peaceful and enjoyable holiday season for all!
---
ABOUT | Julie
Julie has been a writer, researcher, and author in the Natural Health industry for nearly 15 years. A wife and mom to three young daughters, Julie is infinitely interested in studying the science behind how botanicals and nutrients can support and improve the health of her loved ones, and all who read her work.
†Occasional stress