Hemp for Dogs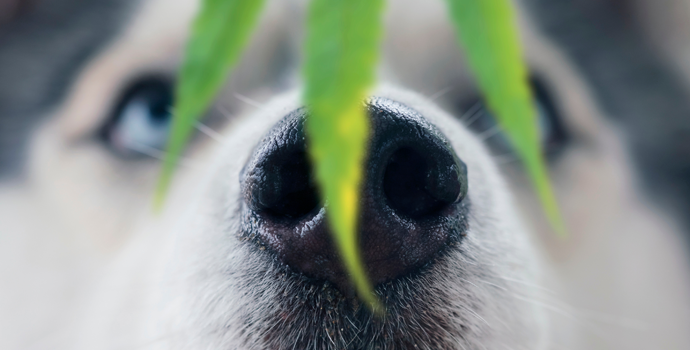 In all my years of pet ownership I cannot think of a single food or health product that has swept through both the human and pet nutrition space as quickly and completely as hemp. Take a walk down the aisle of your favorite pet store (or health food store, or gas station, or even video rental store for that matter) and you will now see a shelf of hemp/CBD products that seemingly appeared overnight. It's no wonder  hemp has grown  so big, so fast—take a look at all the ways it's used. The plant fibers can be found in hundreds of products – everything from rope to plastic, shoes to paper, insulation, and even cement. However, it is the health applications for hemp, and specifically its key compounds, called phytocannabinoids, that have caught the attention of the health-conscious shopper.
Are you ready to try a hemp product for your dog? Are  you wondering how to choose one, and if hemp is legal? Here are a few things to keep in mind as you look for the perfect hemp product for your furry friend.
Hemp is Not Marijuana
The floodgates for hemp products were opened because regulatory agencies have finally acknowledged that hemp and marijuana are not the same. While both come from cannabis plants, they contain different levels of tetrahydrocannabinol (THC). THC is the compound that causes euphoria or a "high" in humans. Hemp has very low amounts of THC, while marijuana plants are specifically selected to have substantial amounts of THC. In dogs, THC can cause a high, but no one seems to be sure that dogs find it an enjoyable experience. When dogs consume excessive amounts of THC, a condition referred to as marijuana intoxication, they may have difficulty walking, twitch, drool, vomit, dribble urine, or even have a seizure. Marijuana may contain as much as 30% THC–much, much more than the small amount found in hemp.
Hemp is Legal
After years of criminalizing marijuana use, local, state, and federal laws are trying to find a unified system to regulate the legal use of hemp products. Generally speaking, hemp products that contain less than 0.3% THC–and this applies for people and pet products–are permitted for sale throughout the United States. Advertisements and social media posts from companies market hemp products for serious health problems. However, these are not legal products. Only approved drugs may make claims to treat diseases in animals. Hemp products from companies that follow the laws may only make general health support claims for their products.  For example, "helps relieve occasional joint stiffness" or "helps the immune system" are examples of the types of advertising claims that may be made by companies complying with guidelines put out by the National Animal Supplement Council (NASC). The NASC is a non-profit trade organization comprised of companies committed to providing the highest quality health and nutritional supplements for dogs and other companion animals. Companies that comply with the NASC's strict quality guidelines are allowed to display the NASC seal on their product labels.

Hemp is Safe and Effective for Dogs
In a 2018 study, researchers enrolled 16 dogs with occasional joint stiffness in a cross-over clinical trial. In a random order, each dog was treated with a hemp product containing phytocannabinoids for four weeks, and a placebo for four weeks, with a 2 week washout period between treatments. The dogs were evaluated by a veterinarian before treatment and every two weeks during the trial. At the end of the study, while receiving the hemp supplement the dogs had a 33% reduction in their occasional joint pain (as evaluated by the veterinarians), but saw a 10% increase in their occasional joint pain during the weeks they received the placebo. No significant adverse effects were reported.
Hemp Product Quality Is An Important Consideration
It seems like the whole world has gone crazy for hemp! Fly-by-night companies with questionable products and dubious claims have popped up everywhere, ready to cash in on a hot trend. But you have to choose carefully. Quality studies have found that many hemp products don't contain the level of key compounds that are listed on the label, are contaminated with toxins, or are spiked with synthetic ingredients. Terry Naturally Animal Health Hemp for Canines features authentic hemp with phytocannabinoids, fully lab tested and proven to contain less than 0.3% THC. It delivers the best of the botanical in a soft chew (with beef liver) that your dog will love. And you will feel confident that your best friend is getting a premium hemp that you can trust.
---
ABOUT | Dan
Dan is a health and medical writer who primarily focuses on botanical ingredients, whole foods, and natural medicine. He is fascinated with traditional medicine practices and has a diverse background in reporting, editing, publishing, and marketing.